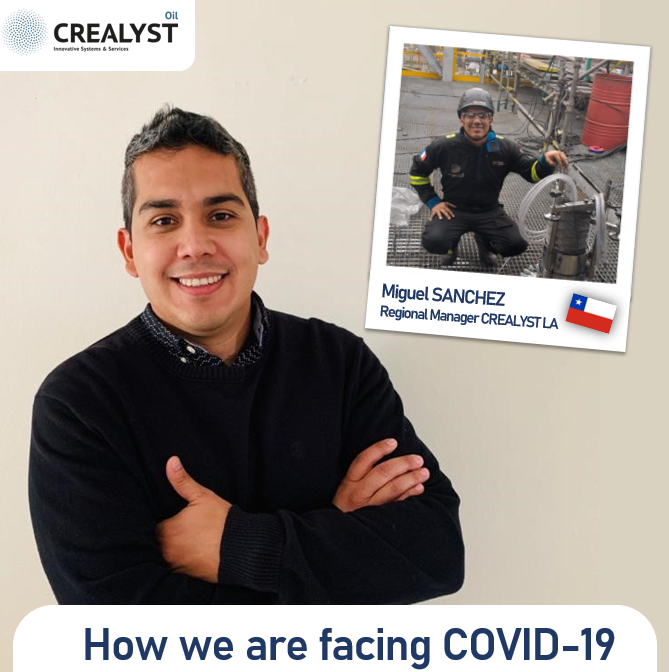 Published by CREALYST the 15/07/2020
Testimony of Miguel SANCHEZ Regional Manager of CREALYST L.A
These days, after months have passed after a difficult situation for the health of the world population, it is a reality that many things have changed personally, family, work, and economically. They have been times of much reflection, empathy, and new strategies. At CREALYST, it is not different. So we have asked  to Miguel SANCHEZ, Regional Manager of CREALYST L.A, how has the pandemic affected his work and his life in the last months.
Miguel SANCHEZ, Regional Manager of CREALYST L.A, shares his perspective.
In our Latin American region, we were able to witness the evolution of the pandemic from east to west,  which on the one hand allowed us to try to get an idea of ​​what was to come but which nevertheless confirmed that nobody was prepared in the current times to a threat like this. And that is how today even in our region, we face serious problems in the attention of the population in health systems, border closures, mandatory quarantines with business closings and economic activities.
At CREALYST L.A, the physical movement between borders in the region has not yet been possible. So we have not been exempt from having to reorganize daily activities, conducting home offices, replacing important technical and commercial face-to-face meetings with calls and video calls. And above all rethinking customer prospecting strategies and remote technical support.
Due to the nature of our services, it seems difficult at first sight to be able to carry out new projects. However, when talking with several of our clients, we can see that they have the same concerns as us regarding the impossibility of being able to schedule their maintenance plants and to have qualified suppliers for them.
At CREALYST L.A we continue every day with the challenge of being able to stay updated on the reality of our clients.
We try to help, as well as empathize with them by letting them know the difficulties that other clients in other parts of the world.
This current situation has made us reflect and should call us to continue giving personal importance to the things that many of us pursue with passion and motivation. Having personal health, being able to work in what we like, helping in the well-being of the family, have quality time for personal activities and be able to put ourselves in the other's place.
There are good days, and there are days that are not so positive. The important thing sometimes is also to go one day at a time .Step by step… with a long term vision.
From CREALYST L.A we wish that we can continue offering you our experience, technology and human quality, as well as having you as well.
Miguel Sánchez
Regional Manager
CREALYST Latin America SpA