CEREALS HOMOGENEOUS
DENSE LOADING

As the specialist of dense loading of catalyst particles in reactors of petroleum refining industry, CREALYST  has successfully transferred  its know-how into the field of crop storage.
CALYGRAIN® patented technology ensures a uniform loading of grains inside silos or wharehouses.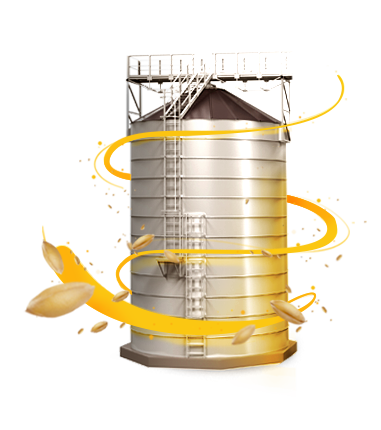 THE BENEFITS OF THE CALYGRAIN SYSTEM®
Our device maximises storage capacity (by 10% to 21% increase) thanks to a homogeneous repartition of the grains and a homogeneous bed.
It strengthens the conservation of the grains. The homogeneity of the bed allows better ventilation and reduces (even avoids) the need for insecticides.
It upgrade the whole crops thanks to homogeneity of the lots and absence of wastage.
AN INNOVATIVE SYSTEM
OF HOMOGENEOUS DENSE FILLING
Improved silo filling system :
Recovery of cereals from the belt-conveyor,
Distribution of grains as rain shower, thanks to the CALYGRAIN® system,
Distribution of grains introduced at a rate of 1000 tons per hour inside silos with up to 38 meter diameter.
Bulk loading

Innovative system CALYGRAIN®
This unique solution can be used for all types of grain.
Studies at Arvalis, the French plant institute, have shown gains in the homogenization of ventilation and gains in storage space.
A SYSTEM ALLOWING HOMOGENEOUS VENTILATION AT EVERY POINTS
The improvement in ventilation results from the homogeneity of the stored grain. Unlike bulk loading, there is no central chimney phenomenon where straw and residues and insects clump together.
CALYGRAIN® thus provides a natural and ecological insecticide effect.
Comparative study between bulk loading ventilation and ventilation with CALYGRAIN®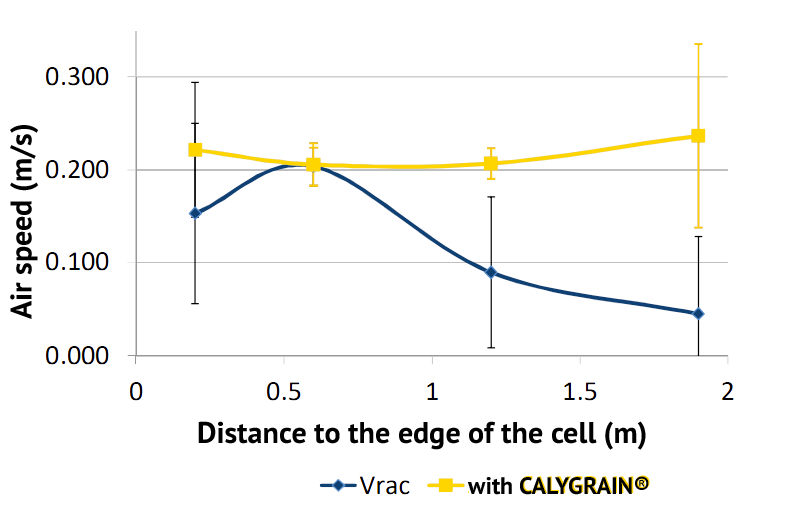 Arvalis : profile of air velocities at the top of the grain heap (the vertical bars represent the standard deviations)
The homogeneous arrangement of the stored grains results in a equal  air velocity at any point.
The uniform ventilation allows :
A complete cooling,
No insect development,
The reduction or elimination of the use of insecticides.
The use of CALYGRAIN® technology delivers many benefits to improve storage of agricultural crops.
The storage capacity is increased by 10 to 21% depending on the type of cereal.
The homogeneous filling improves ventilation and avoids the use of insecticides.
Better grain preservation upgrades the whole crop.
Do you want to share a future project or to raise questions ?
CONTACT US
23bis avenue de l'Europe
78400 Chatou
France
+33 (0)1 39 14 83 35